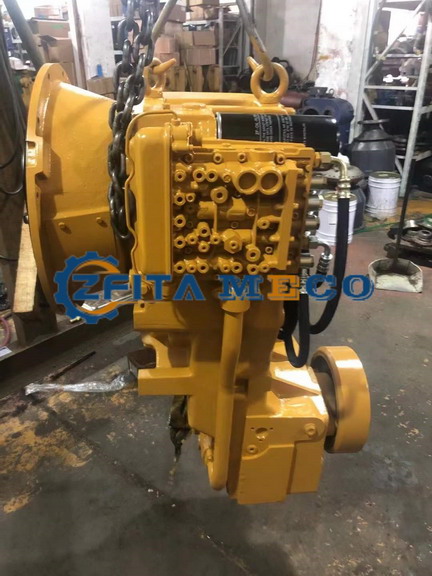 ZF 4wg200 gearbox is the product of ZF, a German transmission system supplier. It adopts electro-hydraulic control and fixed shaft power shift gearbox.
The gears are the first four and the last three, and the supporting engine power is about 200kW. It is commonly used for 5-ton and 6-ton loaders.
We are offering ZF WG200 gearbox spare parts, ZF WG200 transmission spare parts, and grouping up as a best ZF gearbox parts supplier.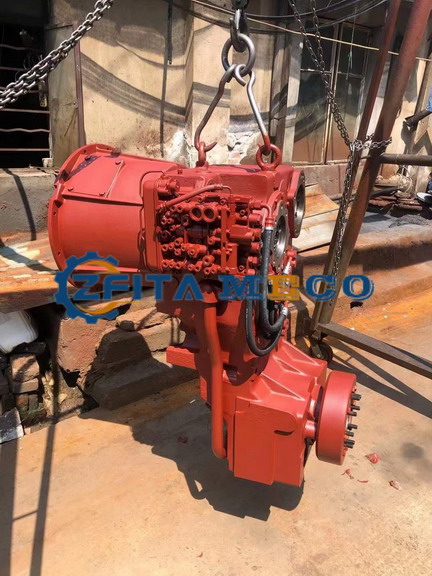 If you need to repair your ZF gearbox , ZF transmission for your whell loaders, motor graders, we can help offer the best quality ZF genuine transmission parts.
Especiall for
ZF 4WG200 4644024146
ZF 4WG200 4644024160
ZF 4WG200 4644024161
ZF 4WG200 4644024170
ZF 4WG200 4644024173
ZF 4WG200 4644024228
ZF 6WG200(4644026351
ZF 6WG200 4644026333
ZF 6WG200 4644026366
ZF 6WG200 4644026367
4WG180 4644004180
| | | | |
| --- | --- | --- | --- |
| 1 | ZF.4644330326 | SP107961 | INTERM.RING |
| 2 | ZF.4644330239 | SP100486 | DIAPHRAGM |
| 3 | ZF.4644330228 | SP100485 | WASHER |
| 4 | ZF.0636900127 | SP100120 | CAP SCREW |
| 5 | ZF.0630502015 | SP100041 | RETAINING RING |
| 6 | ZF.4166330123 | SP100325 | WASHER |
| 7 | ZF.0631329072 | SP100050 | SPLOT.PIN |
| 8 | ZF.0631329100 | SP100051 | SPLOT.PIN |
| 9 | ZF.4139301485 | SP100324 | COVER |
| 10 | ZF.4644330242 | SP100487 | COVER |
| | ZF.4644330357 | SP106715 | COVER PLATE |
| 11 | ZF.0636015169 | SP100104 | HEXAGON SCREW |
| 12 | ZF.4644330385 | SP100488 | CONNECTING HOUSING |
| | ZF.4644330366 | SP106716 | CONNECTING HOUSING |
| 13 | ZF.0636010460 | SP100099 | HEXAGON SCREW |
| 14 | ZF.0634313260 | SP100077 | O-RING |
| 15 | ZF.0630001049 | SP100024 | WASHER |
| 16 | ZF.0636016221 | SP100107 | HEXAGON SCREW |
| 17 | ZF.0899005051 | SP100285 | CONVERTER |
| 1 | ZF.0634402025 | SP100083 | PISTON RING |
| 2 | ZF.0630501024 | SP100035 | RETAINING RING |
| 3 | ZF.0750116104 | SP100254 | BALL BEARING |
| 4 | ZF.4644301265 | SP100426 | GASKET |
| 5 | ZF.0750132143 | SP100277 | GEAR PUMP |
| 6 | ZF.0730001592 | SP100129 | SHIM S=0,9 |
| 7 | ZF.0750116104 | SP100254 | BALL BEARING |
| 8 | ZF.0630501024 | SP100035 | RETAINING RING |
| 9 | ZF.0636010123 | SP100097 | HEXAGON SCREW |
| 10 | ZF.0636010111 | SP100096 | HEXAGON SCREW |
| 11 | ZF.4644311239 | SP100479 | OUTPUT SHAFT |
| 12 | ZF.0631501052 | SP100056 | FITTING KEY |
| 13 | ZF.0631329124 | SP100052 | SPLOT.PIN |
| 14 | ZF.0631329267 | SP100053 | SPLOT.PIN |
| 15 | ZF.4644302188 | SP100428 | INPUT SHAFT |
| 16 | ZF.0734317252 | SP100220 | PISTON RING |
| 17 | ZF.0630501031 | SP100036 | RETAINING RING |
| 18 | ZF.4607302033 | SP100392 | SHIM |
| | ZF.4607302034 | SP100393 | SHIM S=0,5 |
| | ZF.4607302014 | SP100391 | SHIM S=0,6 |
| | ZF.4607302013 | SP100390 | SHIM S=0,7 |
| | ZF.4607302012 | SP105605 | SHIM S=0,8 |
| | ZF.4607302011 | SP100389 | SHIM S=0,9 |
| | ZF.4607302010 | SP105604 | SHIM S=1.0 |
| | ZF.4607302009 | SP100388 | SHIM S=1.1 |
| | ZF.4607302008 | SP105603 | SHIM S=1.2 |
| | ZF.4607302007 | SP100387 | SHIM S=1.3 |
| | ZF.4607302006 | SP105460 | SHIM S=1.4 |
| 19 | ZF.0750116139 | SP100256 | BALL BEARING |
| 21 | ZF.4644302206 | SP100429 | SPUR GEAR |
| 22 | ZF.0750118200 | SP100270 | ROLLER BEARING |
| 23 | ZF.4644302211 | SP100430 | GASKET |
| 24 | ZF.4644302250 | SP100431 | OIL FEED FLANGE |
| 25 | ZF.4644301262 | SP100425 | GASKET |
| 26 | ZF.4642301136 | SP100397 | BEARING COVER |
| 27 | ZF.0734401078 | SP100223 | PISTON RING |
| 28 | ZF.0636015092 | SP105717 | HEXAGON SCREW |
| 29 | ZF.0735298027 | SP100225 | NEEDLE SLEEVE |
| 30 | ZF.0750111231 | SP100246 | SHAFT SEAL |
| 1 | ZF.0636015278 | SP105330 | HEXAGON SCREW |
| 2 | ZF.0630001012 | SP100021 | WASHER |
| 3 | ZF.4644301279 | SP106691 | SCREEN SHEET |
| 4 | ZF.0636302027 | SP106525 | SCREW PLUG |
| 5 | ZF.0634304275 | SP100064 | O-RING |
| 6 | ZF.0636804003 | SP100119 | LIFT.EYE BOLT |
| 7 | ZF.0750131027 | SP100274 | BREATHER |
| | ZF.4644301402 | SP100427 | |
| 8 | ZF.4644301402 | SP100427 | GEARBOX HOUSING |
| 9 | ZF.0634306522 | SP100072 | O-RING |
| 10 | ZF.0636305046 | SP106529 | SCREW PLUG |
| 11 | ZF.4644301298 | SP106692 | COVER PLATE |
| 12 | ZF.4644301192 | SP106690 | COVER PLATE |
| 13 | ZF.0636015278 | SP105330 | HEXAGON SCREW |
| 14 | ZF.0630001012 | SP100021 | WASHER |
| 15 | ZF.0634303233 | SP100058 | O-RING |
| 16 | ZF.0636305019 | SP106528 | SCREW PLUG |
| 17 | ZF.4466351081 | SP100345 | SEALING CAP |
| 18 | ZF.0631311009 | SP106504 | GROOVE STUD |
| 19 | ZF.0899317344 | SP106625 | TYPE PLATE |
| 20 | ZF.0636305026 | SP100117 | SCREW PLUG |
| 21 | ZF.0634306525 | SP107525 | O-RING |
| 22 | ZF.0636305019 | SP106528 | SCREW PLUG |
| 23 | ZF.0634303233 | SP100058 | O-RING |
| 24 | ZF.4644301088 | SP100424 | SEALING CAP |
| 1 | ZF.0630362024 | SP100034 | SEALING DISC |
| 2 | ZF.0636104146 | SP100115 | CAP SCREW |
| 3 | ZF.0634313529 | SP100080 | O-RING |
| 4 | ZF.4644308611 | SP100465 | AXLE |
| 5 | ZF.0750119101 | SP100273 | ROLLER SET |
| 6 | ZF.4644308614 | SP100466 | IDLER GEAR |
| 7 | ZF.4644308610 | SP100464 | THRUST WASHER |
| 1 | ZF.0501309330 | SP100007 | OUTER CLUTCH PLATE |
| 2 | ZF.4644308330 | SP100462 | SPUR GEAR |
| 3 | ZF.4644308329 | SP100461 | INNER CLUTCH PLATE |
| 4 | ZF.4644308329 | SP100461 | INNER CLUTCH PLATE |
| | ZF.4644308330 | SP100462 | INNER CLUTCH PLATE |
| 5 | ZF.0750112139 | SP100247 | PROFILED SEAL RING |
| 6 | ZF.4644351070 | SP100490 | PISTON |
| 7 | ZF.0750112140 | SP100248 | PROFILED SEAL RING |
| 8 | ZF.4642308083 | SP100398 | GUIDE RING |
| 9 | ZF.0732041183 | SP100202 | COMPRESSION SPRING |
| 10 | ZF.4642308084 | SP100399 | GUIDE RING |
| 11 | ZF.0630531346 | SP100048 | V-RING |
| 12 | ZF.4644308071 | SP100458 | END SHIM |
| 13 | ZF.0730513181 | SP100183 | SNAP RING A=2,50 |
| | ZF.0730513434 | SP100190 | SNAP RING |
| | ZF.0730513436 | SP100191 | SNAP RING A=2,40 |
| | ZF.0730513459 | SP100195 | SNAP RING A=2,20 |
| | ZF.0730513457 | SP100194 | SNAP RING A=2,10 |
| 14 | ZF.4644351094 | SP100492 | THRUST WASHER |
| 15 | ZF.0730150779 | SP100177 | THRUST WASHER |
| 16 | ZF.4644351032 | SP100489 | SPUR GEAR |
| 17 | ZF.0501308830 | SP100005 | RETAINING RING |
| 18 | ZF.0735358132 | SP100227 | DISC CARRIER |
| 19 | ZF.0630502037 | SP100042 | RETAINING RING |
| 20 | ZF.0750116100 | SP100253 | BALL BEARING |
| 21 | ZF.0630004168 | SP100028 | WASHER |
| | ZF.0630000055 | SP100019 | WASHER |
| | ZF.0630000054 | SP100018 | SHIM RING 60X 75 X1 |
| | ZF.0630004246 | SP105432 | SHIM RING 60X 75 X1,2 |
| | ZF.0630004232 | SP107491 | SHIM RING 60X 75 X1,5 |
| | ZF.0630004233 | SP100626 | SHIM RING 60X 75 X1,6 |
| | ZF.0630004364 | SP100030 | SHIM RING 60X 75 X0,9 |
| 22 | ZF.0630502037 | SP100042 | RETAINING RING |
| 23 | ZF.0734401106 | SP100224 | PISTON RING |
| 24 | ZF.0634313536 | SP100081 | O-RING |
| 25 | ZF.4644351076 | SP100491 | AXLE |
| 26 | ZF.0636610026 | SP106531 | STUD |
| 27 | ZF.0636610014 | SP100118 | STUD |
| 28 | ZF.0637006018 | SP100121 | HEXAGON NUT |
| 29 | ZF.0730003501 | SP100145 | SHIM K00462/95 S=0,4 |
| | ZF.0730003502 | SP100146 | SHIM K00462/95 S=0,6 |
| | ZF.0730003503 | SP100147 | SHIM K00462/95 S=0,8 |
| | ZF.0730003504 | SP100148 | SHIM K00462/95 S=1,0 |
| | ZF.0730003505 | SP100149 | SHIM K00462/95 S=1,2 |
| | ZF.0730108157 | SP100164 | SHIM |
| | ZF.0730108158 | SP100165 | SHIM |
| | ZF.0730108159 | SP100166 | SHIM |
| | ZF.0730108160 | SP100167 | SHIM |
| | ZF.0730108161 | SP100168 | SHIM |
| | ZF.0730108162 | SP100169 | SHIM |
| | ZF.0730108163 | SP100170 | SHIM |
| | ZF.0730108164 | SP100171 | SHIM |
| 30 | ZF.4644303529 | SP100436 | THRUST WASHER |
| 31 | ZF.0730150759 | SP100173 | THRUST WASHER |
| 32 | ZF.4644308265 | SP100459 | THRUST WASHER |
| 33 | ZF.4644308625 | SP100467 | SPUR GEAR |
| 34 | ZF.0750119100 | SP100272 | ROLLER SET |
| 35 | ZF.4644308266 | SP100460 | WASHER |
| 36 | ZF.4644308265 | SP100459 | THRUST WASHER |
| 37 | ZF.0730150773 | SP100174 | THRUST WASHER |
| 38 | ZF.4642308555 | SP100404 | THRUST WASHER |
| 39 | ZF.0730513181 | SP100183 | SNAP RING A=2,50 |
| | ZF.0730513434 | SP100190 | SNAP RING |
| | ZF.0730513436 | SP100191 | SNAP RING A=2,40 |
| | ZF.0730513459 | SP100195 | SNAP RING A=2,20 |
| | ZF.0730513457 | SP100194 | SNAP RING A=2,10 |
| 40 | ZF.4644308071 | SP100458 | END SHIM |
| 41 | ZF.0630531346 | SP100048 | V-RING |
| 42 | ZF.4642308084 | SP100399 | GUIDE RING |
| 43 | ZF.0730513610 | SP100197 | SNAP RING |
| 44 | ZF.0635303203 | SP100087 | NEEDLE SLEEVE |
| 45 | ZF.4644251046 | SP100420 | DISC CARRIER |
| 46 | ZF.0730513611 | SP100198 | SNAP RING |
| 47 | ZF.0501309330 | SP100007 | OUTER CLUTCH PLATE |
| 48 | ZF.4644308329 | SP100461 | OUTER CLUTCH PLATE |
| | ZF.4644308330 | SP100462 | SPUR GEAR |
| 49 | ZF.4644308329 | SP100461 | INNER CLUTCH PLATE |
| 50 | ZF.4644308330 | SP100462 | INNER CLUTCH PLATE |
| 51 | ZF.0635303205 | SP100089 | NEEDLE SLEEVE |
| 1 | ZF.0501309330 | SP100007 | OUTER CLUTCH PLATE |
| 2 | ZF.4644308330 | SP100462 | INNER CLUTCH PLATE |
| 3 | ZF.4644308329 | SP100461 | INNER CLUTCH PLATE |
| 4 | ZF.4644308329 | SP100461 | INNER CLUTCH PLATE |
| | ZF.4644308330 | SP100462 | INNER CLUTCH PLATE |
| 5 | ZF.0750112139 | SP100247 | PROFILED SEAL RING |
| 6 | ZF.4644351070 | SP100490 | PISTON |
| 7 | ZF.0750112140 | SP100248 | PROFILED SEAL RING |
| 8 | ZF.4642308083 | SP100398 | GUIDE RING |
| 9 | ZF.0732041183 | SP100202 | COMPRESSION SPRING |
| 10 | ZF.4642308084 | SP100399 | GUIDE RING |
| 11 | ZF.0630531346 | SP100048 | V-RING |
| 12 | ZF.4644308071 | SP100458 | END SHIM |
| 13 | ZF.0730513181 | SP100183 | SNAP RING A=2,50 |
| | ZF.0730513434 | SP100190 | SNAP RING |
| | ZF.0730513436 | SP100191 | SNAP RING A=2,40 |
| | ZF.0730513459 | SP100195 | SNAP RING A=2,20 |
| | ZF.0730513457 | SP100194 | SNAP RING A=2,10 |
| 14 | ZF.4644351094 | SP100492 | THRUST WASHER |
| 15 | ZF.0730150779 | SP100177 | THRUST WASHER |
| 16 | ZF.4644252097 | SP100421 | SPUR GEAR |
| 17 | ZF.0501308830 | SP100005 | ANGLE RING |
| 18 | ZF.0750115211 | SP100252 | ROLLER CAGE |
| 19 | ZF.0634313536 | SP100081 | O-RING |
| 20 | ZF.0734401106 | SP100224 | SHAFT SEAL |
| 21 | ZF.4644352062 | SP100493 | AXLE |
| 22 | ZF.0636610014 | SP100118 | STUD |
| 23 | ZF.0637006018 | SP100121 | HEXAGON NUT |
| 24 | ZF.0730003501 | SP100145 | SHIM K00462/95 S=0,4 |
| | ZF.0730003502 | SP100146 | SHIM K00462/95 S=0,6 |
| | ZF.0730003503 | SP100147 | SHIM K00462/95 S=0,8 |
| | ZF.0730003504 | SP100148 | SHIM K00462/95 S=1,0 |
| | ZF.0730003505 | SP100149 | SHIM K00462/95 S=1,2 |
| | ZF.0730108157 | SP100164 | SHIM |
| | ZF.0730108158 | SP100165 | SHIM |
| | ZF.0730108159 | SP100166 | SHIM |
| | ZF.0730108160 | SP100167 | SHIM |
| | ZF.0730108161 | SP100168 | SHIM |
| | ZF.0730108162 | SP100169 | SHIM |
| | ZF.0730108163 | SP100170 | SHIM |
| | ZF.0730108164 | SP100171 | SHIM |
| 25 | ZF.4644303529 | SP100436 | THRUST WASHER |
| 26 | ZF.0730150759 | SP100173 | THRUST WASHER |
| 27 | ZF.4644308265 | SP100459 | THRUST WASHER |
| 28 | ZF.0750119100 | SP100272 | ROLLER SET |
| 29 | ZF.4644308266 | SP100460 | WASHER |
| 30 | ZF.4644308625 | SP100467 | SPUR GEAR |
| 31 | ZF.0730150773 | SP100174 | THRUST WASHER |
| 32 | ZF.4642308555 | SP100404 | THRUST WASHER |
| 33 | ZF.0730513181 | SP100183 | SNAP RING A=2,50 |
| | ZF.0730513434 | SP100190 | SNAP RING |
| | ZF.0730513436 | SP100191 | SNAP RING A=2,40 |
| | ZF.0730513459 | SP100195 | SNAP RING A=2,20 |
| | ZF.0730513457 | SP100194 | SNAP RING A=2,10 |
| 34 | ZF.4644308071 | SP100458 | END SHIM |
| 35 | ZF.0630531346 | SP100048 | V-RING |
| 36 | ZF.4642308084 | SP100399 | GUIDE RING |